Our Mission
InternAlliance bridges the gap between education and employment for diverse students in an online environment, while strengthening the workforce pipeline for top employers.
Our Vision 
InternAlliance is a unique online service that seamlessly connects qualified diverse college students to viable internship opportunities with top U.S. employers.
We take the guess work and the leg work out of the recruiting process through our automated system that increases efficiency for students and employers in a secure environment.
Business Objectives: 
Provide increased efficiency of college intern recruiting programs; and a qualified resource for diverse intern candidates through an automated and turnkey online solution.
Provide increased OFCCP and diversity program compliance for companies; and reliable student employment reporting for universities in real time.
Provide diverse student population with credible, secure, simple, and effective way to connect with viable internship opportunities.
Provide streamlined student professional organization communication; and a qualified resource for company branding on campus and funding organization programs.
Provide empowered political and social leaders seamless solution to constituent job creation.
Corporate Citizenship
In addition to our support of education, InternAlliance is committed to the health and safety of our employees, contractors, and customers. We also operate our business in a way that seeks to minimize its impact on the environment.
Our Chief Executive Officer and Founder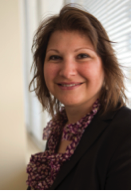 Danielle Gruppo is an accomplished human resources executive with over 25 years of experience developing and executing talent management and human capital strategies for Fortune 250 and privately held companies in energy, healthcare, services, and manufacturing. Adept at leading comprehensive organizational design, long-term recruiting and retention strategies, workforce development, global diversity/inclusion strategy and creating human resources frameworks in support of companies' overall goals and values.
Ms. Gruppo is a results-oriented achiever with a proven track record of building programs that foster a corporate culture of employee engagement, inclusion, and compliance by employing keen business acumen and demonstrating key expertise.  Dedicated to building effective relationships and providing support to stakeholders, executive teams and boards of directors.